What we grow

The Vegetable Gardens
Fresh local produce. Naturally grown. We have harvested close to one hundred-fifty varieties of vegetables, herbs, and fruits, from familiar staples to rare and exotic heirloom varieties.
We offer a range of vegetables, grains, and herbs, from familiar staples to rare heirloom varieties, for members of our CSA as well as partner organizations that provide food to families in need.
We strive to supply a diverse mix, but what we plant and what we end up harvesting depends on how cooperative nature, weather, and all the other unpredictable factors that go into farming can be. This year's planting season may include:
Japanese vegetables, including Komatsuna and Mizuna
Greens, including Blue Scotch Kale and Verdil Spinach
Lettuces, including Pirat Butterhead and Red Romaine
Onions, including Copra and Tropea
Root vegetables, including White Egg Turnips and Parisian Market Carrots
Summer & winter squash, including Romanesco Zucchini and Marina di Chioggia
Herbs, including Lemon Basil and Wild Fennel
Warm weather specialties, including heirloom tomatoes, melon and cucumbers
Plus many more types and varieties!
Interested in supporting our work? Join our CSA to receive a weekly basket of locally grown vegetables.
What we grow

The Vineyard
Rows of plump grapes - for fresh eating, wine and other fermentations - grow alongside and between fruit trees, wild herbs and flowers. A vineyard that is also habitat for countless native creatures, from birds to small mammals to beneficial insects, all growing and thriving without the need for man-made chemicals or herbicides.
A vineyard like this is rare, especially for Illinois, and the varieties of grapes we grow are ideally suited for our harsh and ever-changing climate. It is an island of sorts, an oasis of biodiversity where nature is our trusted partner in growing the fruits of our labor.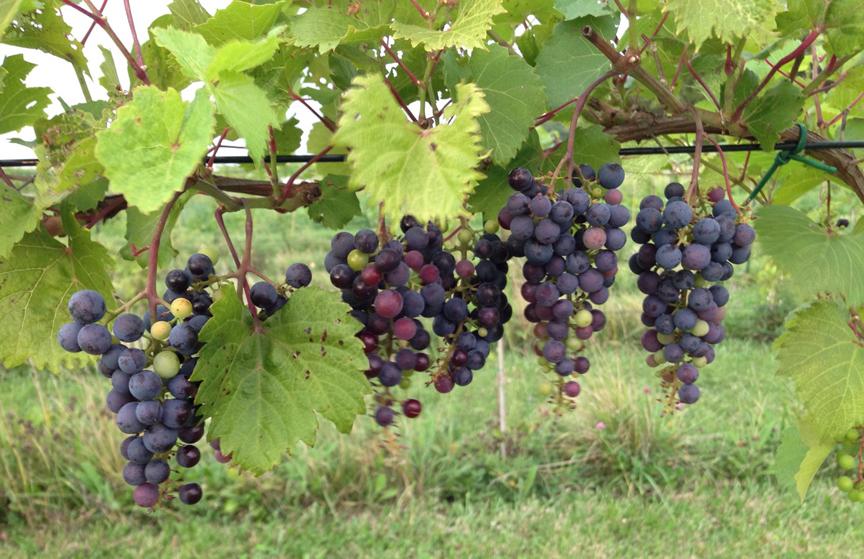 Below are some representative images of our produce. Not all will be available every season. Click on the images for larger views and descriptions.