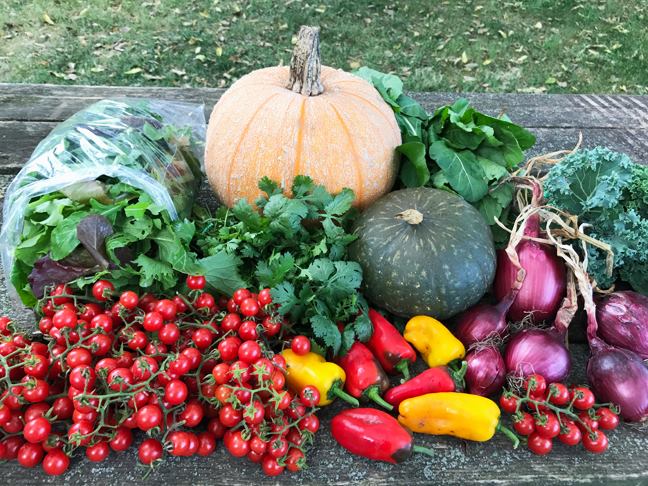 Community Supported Agriculture
A CSA (Community Supported Agriculture) consists of a community of individuals and families who pledge their support through membership to a small, independent farm. Members, or "shareholders" of the CSA become partners with the grower so that they share in the risks and reap the rewards of responsible farming. Typically, members of the CSA pledge in advance to cover the anticipated costs of the farm operation through the purchase of a "share" which, in exchange, offers them a weekly box of a wide variety of vegetables and herbs grown on the farm. In addition, members achieve the satisfaction of reconnecting to the land and being an active participant in the movement toward supporting locally-grown food.

At its core, a CSA offers a shared commitment that is helping to build an ecologically sound agricultural system that focuses on good stewardship and helps protect the land for future generations.
A single full share box (approximately 1-3/4 grocery bags) is enough to feed a family of 2-4. A partial share box (approximately 1 grocery bag) typically feeds 1-2.

New - offering local delivery. Our approximate route covers the area south of I-80, north of 113, east of Kinsman Road, and west of Jugtown Road. Please contact us for any questions.
2019 Full Season Share Pricing (Approximately 20 weeks starting late June)
Full Share: $650 Full Share with Delivery: $730
Partial Share: $470 Partial Share with Delivery: $550
Alternating Week Full Season Shares (Every other week starting late June, for a total of 10 shares)
Alternating Week Full Share: $345 Alternating Week Full Share with Delivery: $385
Alternating Week Partial Share: $255 Alternating Week Partial Share with Delivery: $295
To join the Bray Grove Farm CSA, complete the agreement form . You can mail the agreement and pay with a check (preferred) or via credit card through our online store. You can also contact us for payment plans.
Pick up of CSA shares are on Tuesdays from 2-7pm direct from our farm, south of the town of Morris in Grundy county, Illinois.
Delivery of CSA shares are on Tuesdays from 3-5pm depending on your location on our delivery route.
If you coordinate group purchases of six or more full shares, within the Chicagoland and North Central Illinois area, we can work with you to set up a drop off site. Contact us for more information.