Cultivator
Cultivator is an alternative art program, consisting of exhibitions in Chicago and events held at Bray Grove Farm.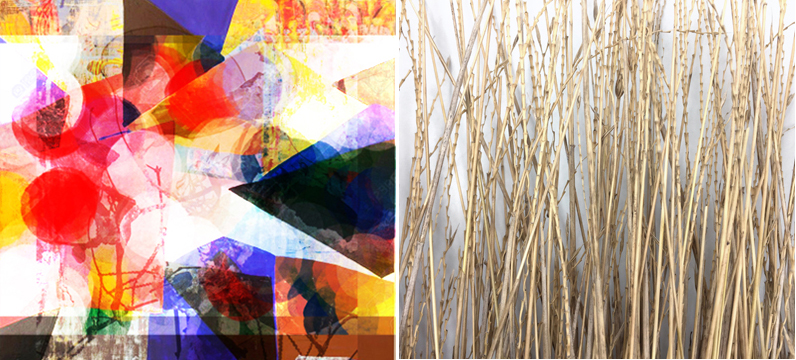 Judith Mullen
Marzena Ziejka
Two Solo Exhibitions - Cultivator at Bray Grove Farm
Memorial Day, Monday, May 27, 2019
Cultivator is pleased to present two exhibitions for our spring event at Bray Grove Farm. Judith Mullen will place outdoor sculptures throughout the farm, while Marzena Ziejka will create an installation inside our unfinished attic space.
Both artists draw from their urban lives and farm ancestries, contrasting the noise and pace of the city with the calming, slowing down of nature's escapes. Each artist will be interpreting pieces based on personal experiences of movement; Mullen from her quiet wanders through nature, gathering sticks, rocks, and anything that catches her eye as possible material for her art; Ziejka from her blissful childhood memories of running through grassy fields.
Judith Mullen presents A Good Wander II, outdoor sculpture derived from her collecting of natural and man-made debris. During her uncharted walks in the woods, she leaves the chaos of her day to expand her artistic concepts. Trees symbolize the cycle of life, with their components providing tangible media from which she sculpts. The Eternal Tree, Ashvattha, is a yogic and spiritual symbol consisting of an upside-down tree, rooted in the skies; while the fruits of the trees represent inner growth. Mullen's site-specific sculptures on the farm reinterpret these ideas, beckoning others to share in a good wander.
Marzena Ziejka's Emotional Memory of Scampering, is an installation of process, nostalgia, and hope. She considers the placement of each individual blade of straw, slowly amassing her sculpture in a meditative homage to her agricultural roots and the passage of time. The installation creates a peaceful environment, reminiscent of Ziejka's childhood and her carefree runs through the fields, free of life's burdens and open to enchantment.
Please rsvp and join us on Monday, May 27th from 2-5pm for art and conversation along with a tour of the farm. Bray Grove Farm is located 70 miles southwest of Chicago in Grundy County. To confirm your attendance and receive directions and parking information, email.
Read about Judith Mullen - A Good Wander II
Read about Marzena Ziejka - Emotional Memory of Scampering